---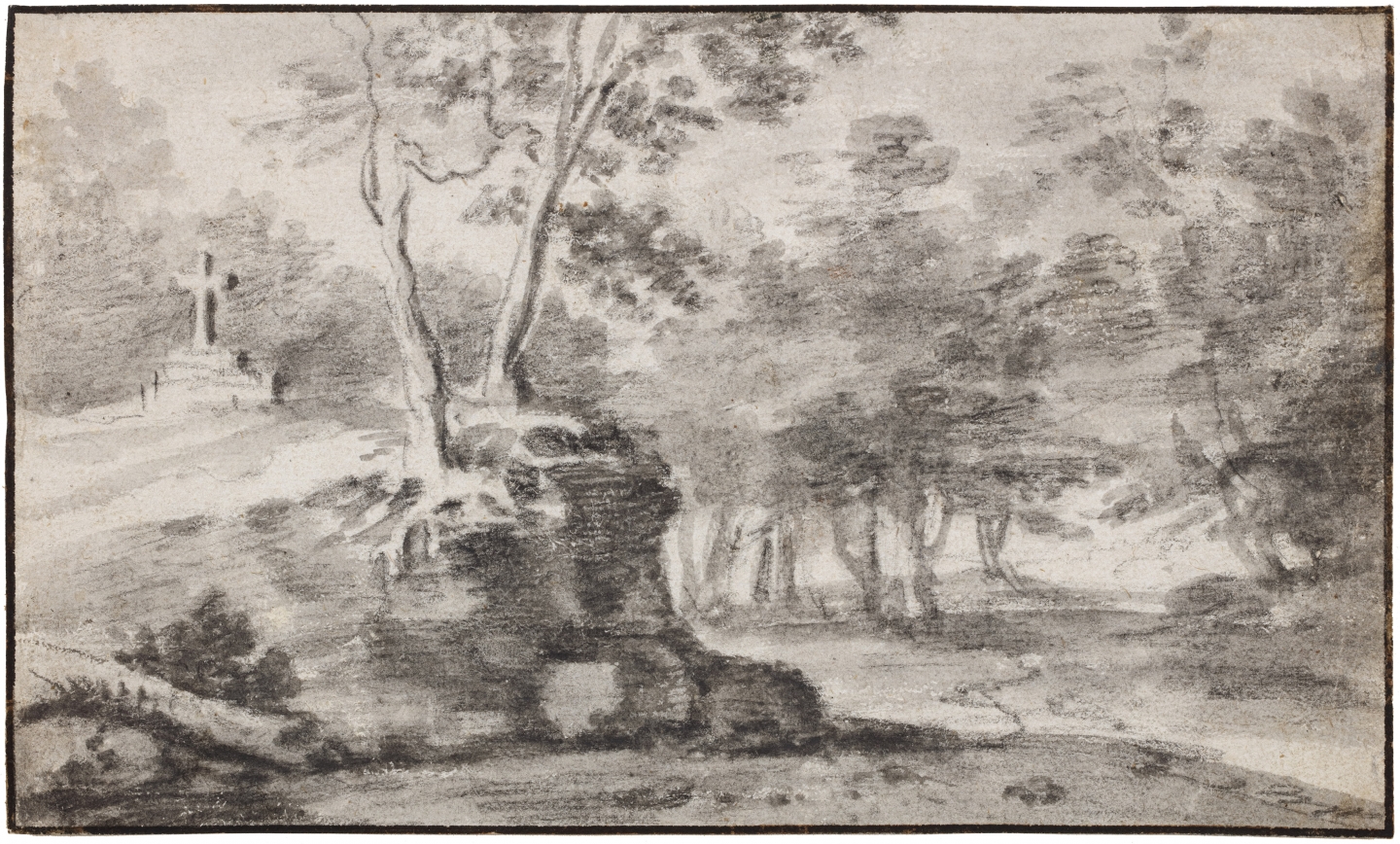 Click to enlarge
Lodewijk de Vadder became a Master at Brussels in 1628 and was active as painter, etcher, draughtsman and designer of cartoons for tapestries, the latter for which he was in 1644 as tapestry cartoon designer cum privilegio. De Vadder was influenced by Peter Paul Rubens (1577-1640) and Adriaen Brouwer (1603-1638). He was regarded by his contemporaries as the most eminent landscape painter in Brussels. Ignatius van der Stock (and probably also Lukas Achtschellinck) were his pupils.[1]
Drawings by the three Brussels landscapists Jacques d'Arthois (1613-1686), Lucas Achtschellinck (1626-1699) and Lodewijk de Vadder (1605-1655) are easily confused and erroneously attributed as their subjects as well as their stilistic renderings are closely related. Especially d'Arthois and de Vadder chose the hilly country landscape of the Sonian forest (Forêt de Soigne) in the south of Brussels as their subject.[2]
The typically rapid and loosely executed broad horizontal strokes used to indicate foliage in combination with the abundantly applied grey wash add this recently discovered sheet to the corpus of drawings given to Lodewijk de Vadder.
[1] Vlaamse tekeningen uit de Zeventiende eeuw, Verzameling Frits Lugt/Institut Néerlandais Parijs.
Victoria and Albert Museum, London, Institut Néerlandais, Paris, Kunstmuseum, Bern, Royal Library Albert I, Brussels, 1972. Cat. no. 113, p.163-165.
[2] Jane Shoaf Turner, Christopher White, Dutch & Flemish Drawings in the Victoria and Albert Museum.
V&A Publishing, 2014. Vol. II, no. 567.