---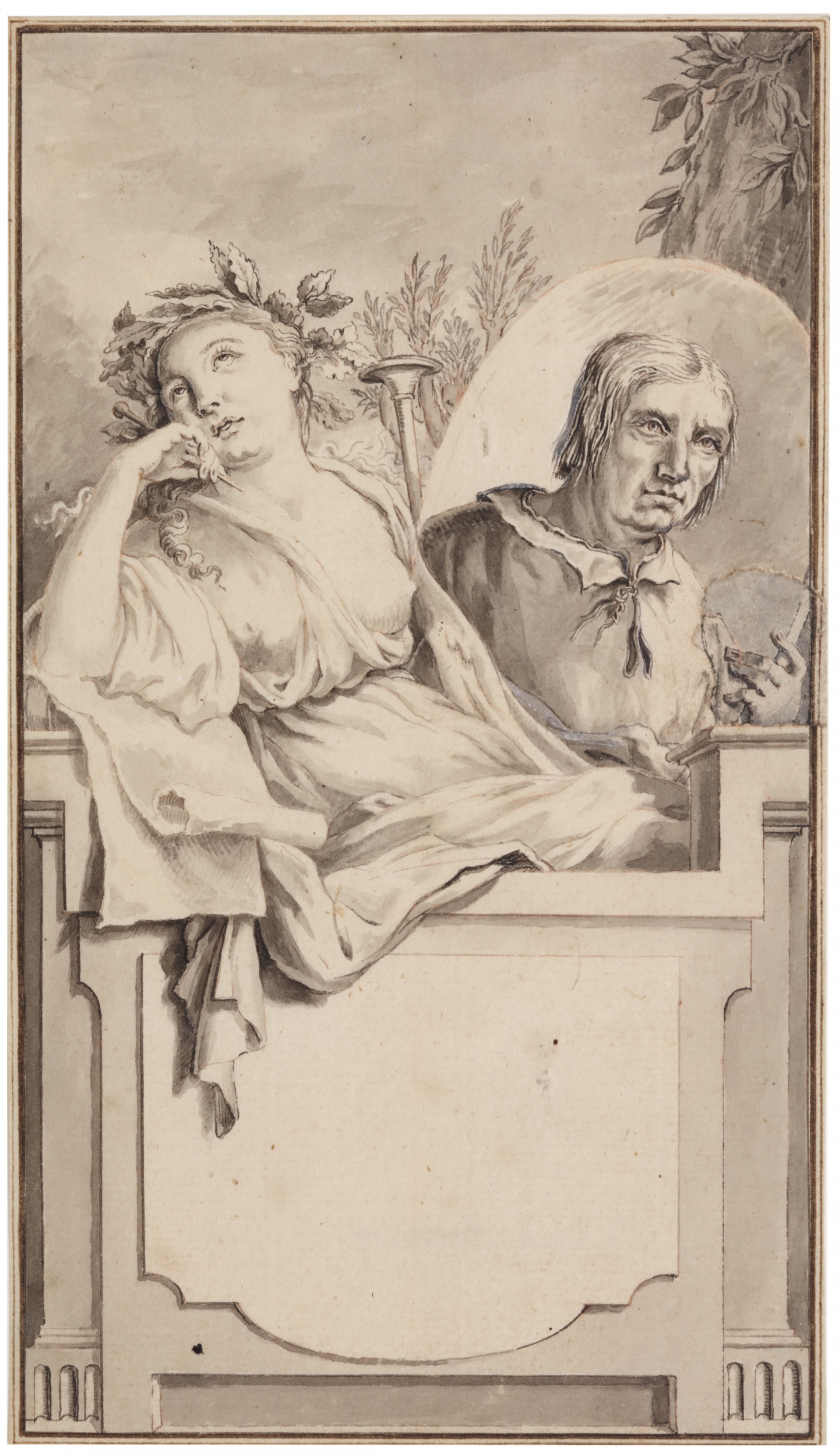 Click to enlarge
Son of a bookdealer, Jan Goeree most probably became an apprentice to Gerard de Lairesse (1641-1711). Goeree's attention concentrated on emblematic and historical drawings and prints, for which he appraised great fame. He was very original and never copied after other artists. Aside from Jan's activities with drawing and engraving, he was a most devoted amateur poet "Rust ik, zo roest ik" (when taking a rest, I'll become rusty) which is reflected by the present drawing for Sannazaro.[1]
Original frontispice design by Jan Goeree, after which Jacob Houbraken engraved the title to "Arcadia van Sannazarius", Sannazaro's most important work.[2][3][4]
The drawing hasn't been indented for transfer as this is the very first version with multiple "pentimenti" like the replacement of a piece of paper for Sannazaro's hand, which holds a book in our design and has disappeared on the engraving by Jacob Houbraken after the present drawing. Also the trumpet which Fame holds has been adapted.
The design depics the personification of "Fame" holding a shield which bears the portrait of Jacopo Sannazaro (Naples 1548-1530 Somma Vesuviana). Sannazaro was also known as "Actius Sincerus".
[1] Roeland van Eijnden, Adriaan van der Willigen, Geschiedenis der Vaderlandsche Schilderkunst. A. Loosjes Pz., Haarlem, 1806. P. 244-248 (Vol. I).
[2] Jacob Sannazarius, Arcadia van Sannazarius. Benevens eene korte geschiedenis van den huize Arragon, en het leven des dichters, door Pieter Vlaming. Met aenteekeningen en figuuren. Amsterdam, By Adriaen Wor, en de Erv. van G. Onder de Linden, 1730.
[3] Faam met een portret van Jacopo Sannazaro. Jacob Houbraken (after Jan Goeree). Rijksmuseum, Amsterdam. Inv. no. RP-P-1909-4492. Ver Huell 368.
[4] R.-J. te Rijdt, 'Getekende ontwerpen voor beeldhouwers: Nicolaas Verkolje en Jan Goeree', in: E. Buijsen e.a. (red.), Kunst op papier in de achttiende eeuw/Art on Paper in the Eighteenth Century. Liber Amicorum aangeboden aan Charles Dumas ter gelegenheid van zijn 65ste verjaardag, Zoetermeer 2014, p. 168-181.