---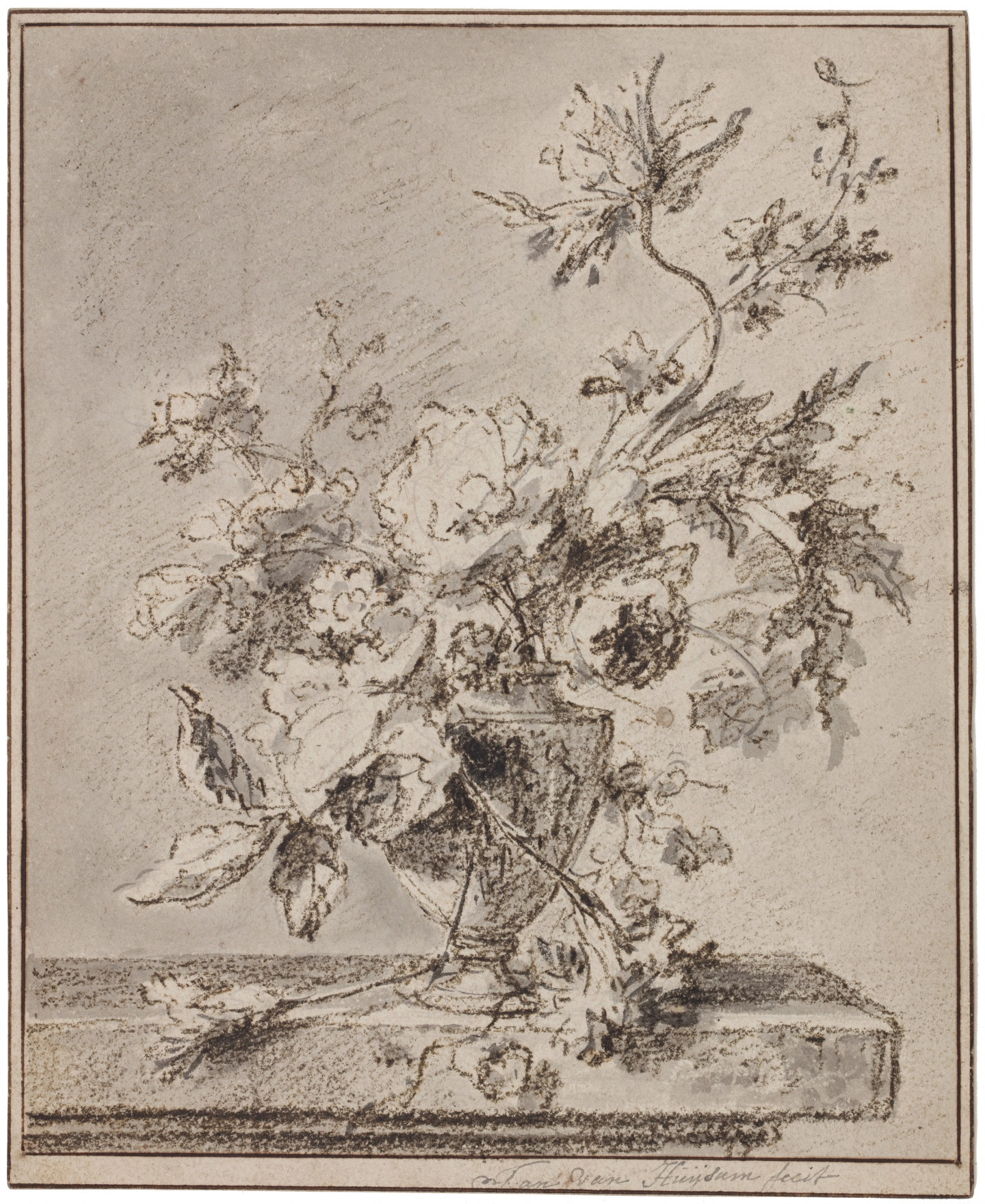 Click to enlarge
Jan van Huysum was born in Amsterdam on 15th April 1682. He marries Margrieta Schouten in 1704 in Amsterdam where the couple lives for the remainder of their lives until Jan dies in 1749. According to Arnoldus Houbraken, Jan and his younger three brothers were pupils of their father Justus van Huysum the Elder (1659-1716), who was a painter of flower pieces and one of the very first interior decorators.[1]
Jan's ambitions surpassed his father's by far and he aspired the career of a fashionable international artist. Due to his enormous success Jan became obsessed with the secrecy of his techniques and the blending of his pigments. No one was allowed to enter his studio when the master was at work. Aside from one single exception for Margaretha Havermann (1720-1795) he refused to employ any pupils.
In order to achieve the maximum of botanical accuracy van Huysum drew and painted directly from the model and therefore it sometimes took over a year to complete a painting examplified by his writing to the Duke of Mecklenberg where van Huysem states he was unable to find a yellow rose that year. He is believed to have used his drawn studies merely as a method of stimulating his sense of arrangement and composition.[2]
In a letter to Martinet, Cornelis Ploos van Amstel called Jan van Huysum "de grootste Bloemschilder die er ooit is geweest, of mogelyk nimmer komen zal" (the foremost flowerpainter ever, probably never to be surpassed).[3]
Van Huysum received numerous international commissions of which some of Royal stature amongst which were Prince William of Hesse, The French Ambassador of Holland, Comte de Murville, the Duke of Orleans, Sir Robert Walpole and Kings of Poland and Prussia. His fame made him one of the best paid painters of his time. Weyerman called him the "Phoenix of flower painters".[4]
This relatively small and intimate drawing in black chalk and grey wash shows flowers in an urn on a plinth, Jan's typically subjects of choice. Contrary to his (Arcadian) landscape drawings, his botanical drawings are painstakinlgy arranged compositions of flowers, often in bloom in different seasons and drawn after life. The drawing is fully signed, which indicates it was ready for the market to be sold instead of remaining in his shielded workshop to serve as a model for paintings.
[1]Arnold Houbraken, De groote schouburgh der Nederlantsche konstschilders en schilderessen ... zijnde een vervolg op het schilderboek van K. van Mander. Arnold Houbraken, Amsterdam, 1718. p. 387.
[2]Christopher White, The Flower Drawings of Jan van Huysum. F. Lewis, Publishers, Limited, 1964.
[3]J.W. Niemeijer, 'Jan van Huysum', in: Th. Laurentius, J.W. Niemeijer and G. Ploos van Amstel, Cornelis Ploos van Amstel 1726-1798. Kunstverzamelaar en prentuitgever, Assen 1980, p. 168-69
[4]Sam Segal, Mariël Ellens, Joris Dik, De verleiding van Flora, Jan van Huysum 1682-1749. Waanders Uitgerevers Zwolle/Museum Het Prinsenhof Delft/The Museum of Fine Arts Boston, 2006