---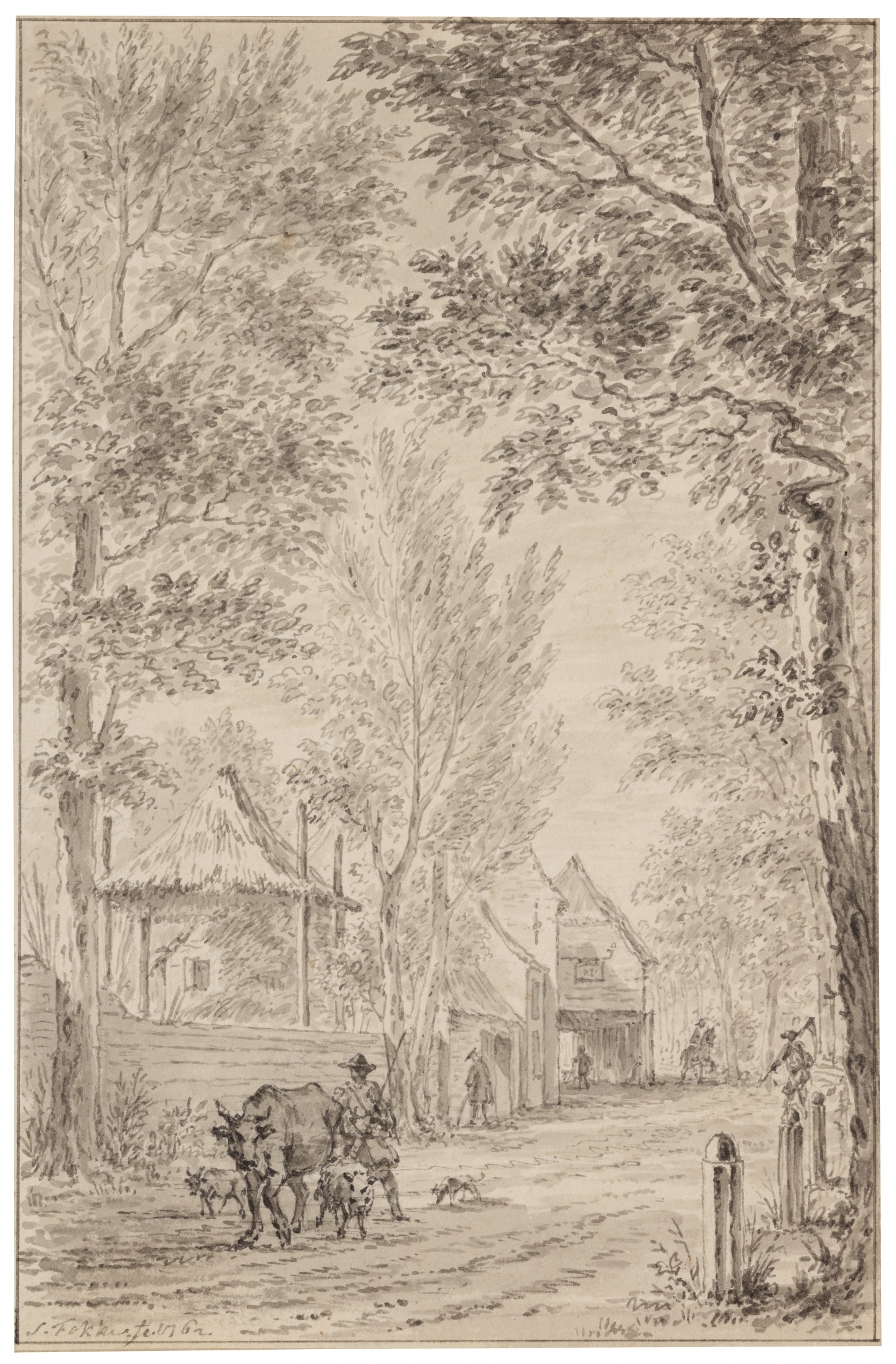 Click to enlarge
Situated on the central part of the Herenweg Heemstede between Haarlem and Leiden, the history of tavern 'De Dorstige Kuyl' goes back in time way before the dating of our very fine drawing by Simon Fokke and originates from before 1642. By then the estate was owned by Heer van Heemstede (Lord of Heemstede), Knight Adriaan Pauw. The tavern's ownership changed several times from Huygen (1650), Arent Adriaenszoon Coster (1655), Adam Heindricz Schouten (1687), Huybert Cornelisse Verstraeten (probably 1701), Jacob Backer Lestevenon (1719) who already owned Oud Berkenrode to Pieter de la Court (husband of Sara Maria, Lestevenon's daughter). The latter who introduced the first manager to the tavern.
Between 1750 and 1770 the tavern was a popular meeting point for members of the Amsterdamse Tekenacademie (Amsterdam Drawing Academy) where the draughtsmen Jan Punt, Simon Fokke and Jan de Beijer would meet frequently.
Definitely one of it's most famous visitors was Cosimo de' Medici III from Florence who visited the tavern in 1667 during his journeys through Holland.
The present drawing shows De Dorstige Kuyl with it's signboard "Den Dorstighen Kuyl" clearly recognisable and the adjacent coach canopy seen towards the South. One of the visitors is relieving himself just around the corner.
In 1772 the tavern became independant again and was transferred to former manager Cornelis Hout. Van Keulen prolonged the tavern for some time from 1794 after which it was demolished and replaced by mansion Kennemeroord, Van Keulen's residence.
Several drawings by Simon Fokke depicting tavern De Dorstige Kuyl from different views in the collection Noord-Hollands Archief and the collection Teylers Museum Haarlem, all dated between 1760 and 1762.[1][2][3][4][5]
[1] Simon Fokke, Herberg De Dorstige Kuil aan de Herenweg, ziende naar het Noorden.
Noord-Hollands Archief, inv. no. NL-HlmNHA_1100_KNA006003386
[2] Simon Fokke, De stal van herberg De Dorstige Kuil aan de Herenweg.
Noord-Hollands Archief, inv. no. NL-HlmNHA_1100_KNA006003384
[3] Simon Fokke, Gezicht op de Herenweg vanuit de stal van herberg De Dorstige Kuil.
Noord-Hollands Archief, inv. no. NL-HlmNHA_1100_KNA006003382
[4] Simon Fokke, Uitzicht uit de zijkamer van herberg De Dorstige Kuil.
Noord-Hollands Archief, inv. no. NL-HlmNHA_1100_KNA006003385
[5] Simon Fokke, Herberg 'De Dorstige Kuil', Heemstede.
Teylers Museum Haarlem, inv. no. V 072