---
Esaias van de Velde (Amsterdam 1587-1630 The Hague) Scandinavian landscape with log cabins, rapids and travellers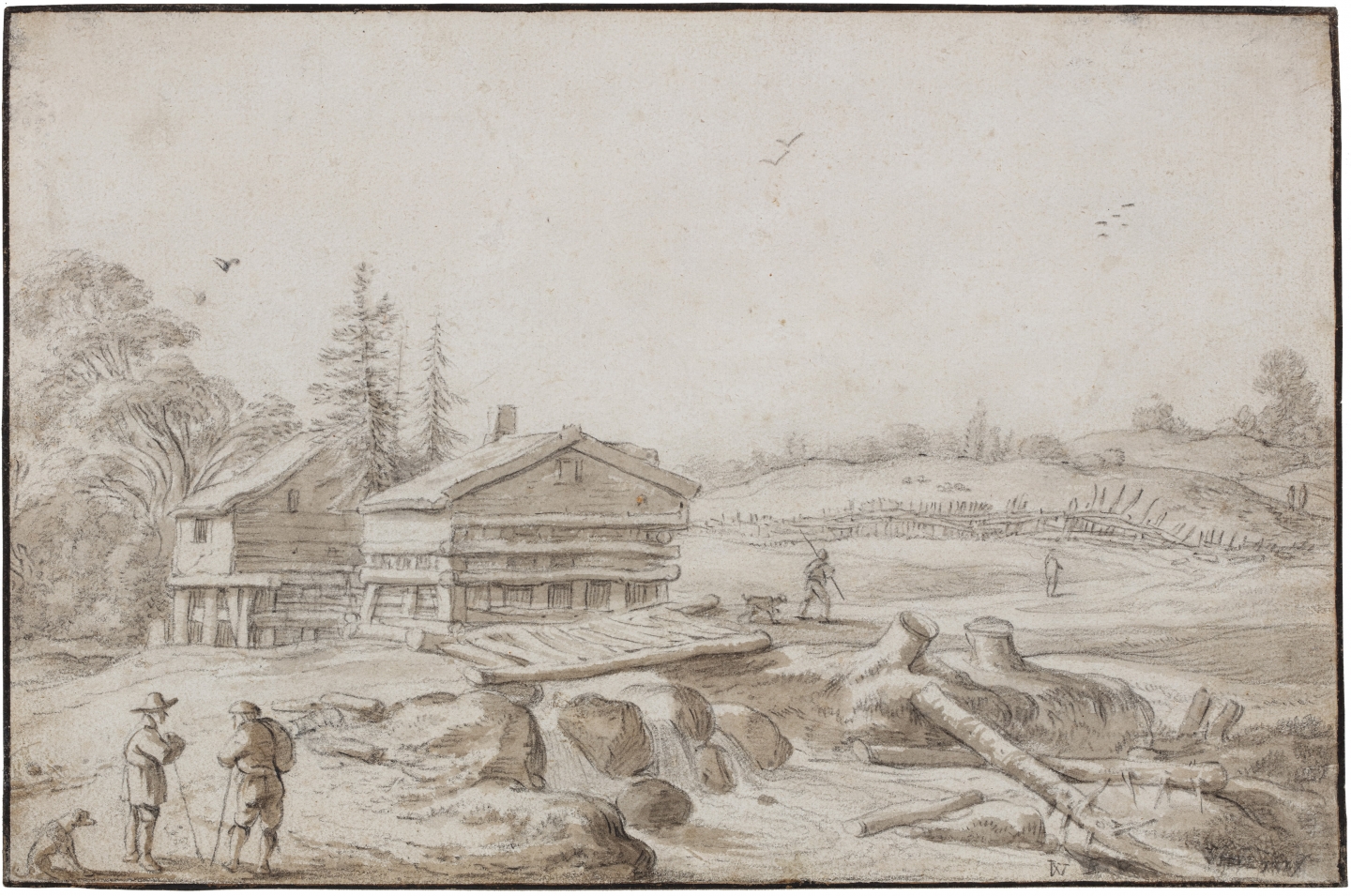 Click to enlarge
During the late sixteenth century a transitional shift took place in the Northern Netherlands transforming the aristocratic Flemish concept into a-matter-of-fact realist landscape style drawn from the Dutch countryside. Artists like Gillis van Coninxloo (1544-1606) and David Vinckboons (1576-1632) emigrated to Amsterdam and made significant contributions to this shift. Claes Jansz Visscher (1587-1652) and Esaias van de Velde were born in the same year and like fully sure for Visscher, Esaias is believed to have been apprenticed to David Vinckboons as well. Esaias' earliest premonition to the realist landscape is his etching "The Village", dated 1614.[1][2]
The earliest surviving black chalk drawing by Esaias is "Farm to the right of a frozen river", signed and dated 1616 and made during his Haarlem years.[3]
In those years chalk was a popular and frequently used medium by artists like Cornelis Cornelisz. van Haarlem, Hendrick Goltzius and his stepson Jacob Matham. Esaias would become the pioneer in the application of black chalk for landscape drawings and started his more active experimenting with the medium around 1618 when he moved to The Hague.[4]
An absolute landmark and watershed in the history of Dutch draughtmanship is Esaias' first black chalk sketchbook which he produced between 1618 and 1620 of which fifteen sheets have survived. At least two later sketchbooks are recorded of which one is datable ca. 1625. In these later sketchbooks Esaias applies (purple) wash accomplishing more finished drawings.
The most renowned pupil of Esaias van de Velde was Jan van Goyen, who became inspired by his master to use black chalk in the late 1620's, a medium he would prefer for the rest of his career. Inspired by Esaias van de Velde and Jan van Goyen, virtually all of the great seventeenth century Dutch landscape painters and draughtsmen amongst who are Nicolaes Berchem, Aelbert Cuyp, Meindert Hobbema, Jacob van Ruysdael, Herman Saftleven, Simon de Vlieger, Anthonie Waterloo and Philips Wouwerman favored black chalk.[5]
Esaias van de Velde pioneered the use of black chalk for landscape drawings, which makes this one of the earliest black chalk landscape drawings long before Allaert van Everdingen (1621-1675) and Jacob van Ruisdael (1628-1682).
Just like the two closely related drawings George Keyes mentions in his catalog raisonné on Esaias van de Velde, one of which is also dated 1627, this small group of drawings in black chalk is a significant premonition of the Scandinavian drawings of Allaert van Everdingen from the mid 1640's and later.[6][7]
The composition for this sheet follows three diagonal lines, created by the horizon with undergrowth on the far right, the wooden fence in the middle section and the rapid reinforced by the chopped spruce trees, all leading to the two wood cabins with swooning trees and spruces in the background. Esaias left the luminous sky fully open except for a flock of birds just like he did in the drawings at the Albertina and Clevelend Museum of Art. The two conversing travellers with a dog in the lower left corner are a typically repoussoir used by Esaias van de Velde and recur frequently in his drawings.
Most assumptuous the motif of fallen dead spruce trees may derive from paintings and drawings by Roelandt Savery (1576-1639) and Gilles Claesz. d'Hondecoeter (1575-1638).
The paper of our drawing bears the identical watermark compared to the drawing also dated 1627 in the collection Rijksmuseum Amsterdam.[8]
[1] George Keyes, Esaias van den Velde (1587-1630). Davaco, Doornspijk, 1984.
[2]Keyes, op. cit., cat. no. E33, pl. 29.
[3] Keyes, op. cit., cat. no. D77, pl. 69.
[4] G. Keyes, 'Esaias van de Velde and the chalk sketch', Nederlands Kunsthistorisch Jaarboek 38 (1987), p. 136-145
[5] W. Stechow, 'Esajas van de Velde and the beginnings of Dutch landscape painting', Nederlandsch kunsthistorisch jaarboek 1947, p. 83-94
[6] Log cabin by a stream. Cleveland Museum of Art, Cleveland, inv. no. 66.7.
[7] Cabin at the confluence of two streams. Graphische Sammlung Albertina, Vienna, inv. no. 8683.
[8] Landscape with travellers being ambushed. Rijksmuseum Amsterdam, inv. no. RP-T-1885-A-474.