---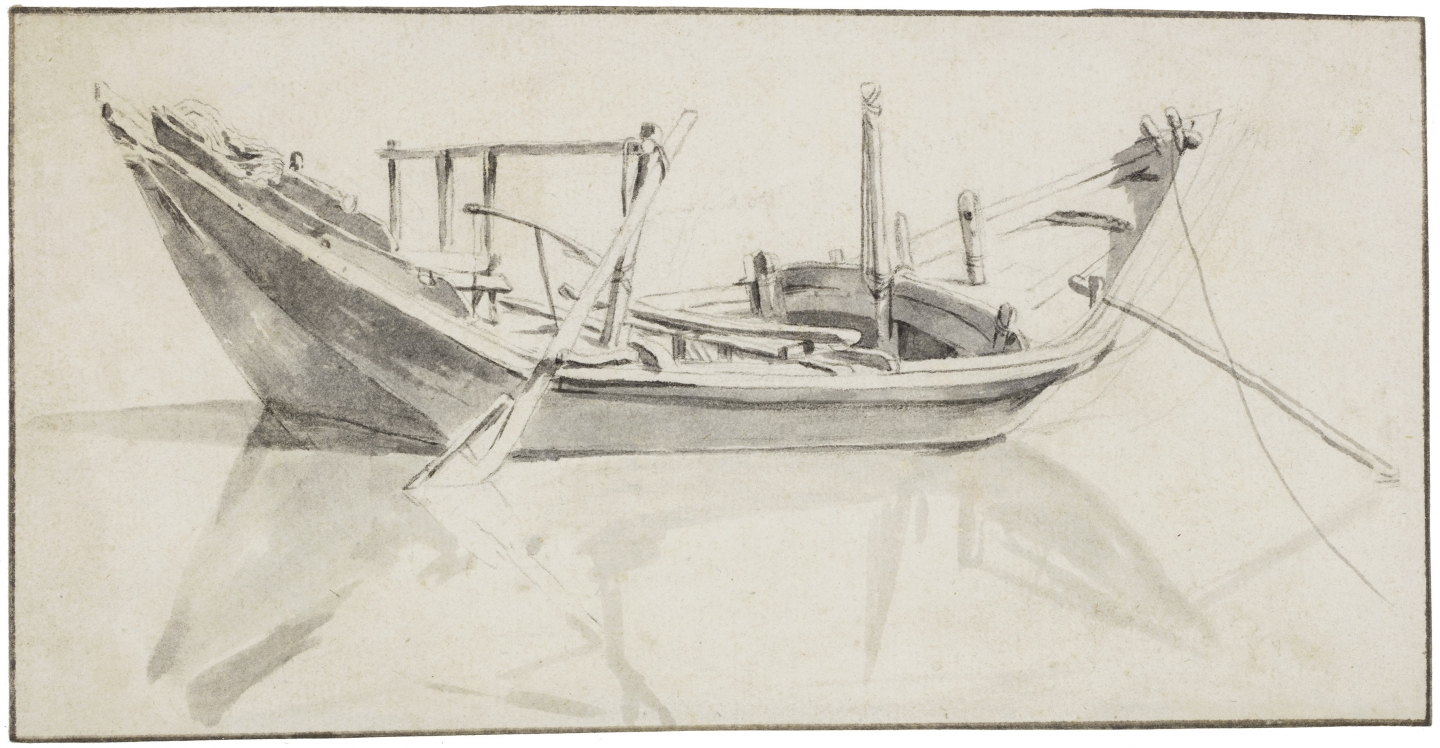 Click to enlarge
This very fine study of a sunlit moored Roman merchant boat is clearly drawn "in situ" after life. Caspar van Wittel's (van Vitelli) paintings dated between c.1680-1710 on Rome and it's vicinity frequently show this specific type of rowing boat which was used by merchants to transport perishable goods like fish, flesh, fruits and vegetables. A beam was tied between the prow balcony and the sternpole, the frame thereafter covered by a blanket to provide a shadow rich niche to protect and preserve the goods transported from direct sunlight. Although this type of boat often figures in van Wittel's paintings he clearly is not the draughtsman for this study as he exclusively drew with pen and ink and wash. A most illustrative example of these boats can be found in the painting "The Tiber under the Angel's Bridge of Castel Sant'Angelo".[1]
Most assumptuous the draughtsman for this highly skillful study with pentimento in the stern is a late 17th century Italianate artist from the Northern or Southern provinces of The Netherlands like Isaac de Moucheron (called Ordonnantie, which was one of his skills) or Pieter van Bloemen (called Standaart, his Bentvueghel nickname which refers to the standards and banners he frequently painted in his military scenes). Of both artists we know they were active in Rome during the last decade(s) of the 17th century. Specifically of Pieter van Bloemen we know he lived in Rome for many years and produced a large album with 255 drawings depicting Rome and it's surroundings. Van Bloemen also worked in the same medium of loosely sketched black chalk underdrawings finished with brush and grey ink and wash just as seen in our sheet.[2][3][4]
[1] Maestro van Wittel, Hollandse meester van het italiaanse stadsgezicht.
Kunsthal Kade Amersfoort, 2019. p. 63, Caspar van Wittel, The Tiber under the Angel's Bridge of Castel Sant'Angelo. Oil on canvas, 49 x 94 cm. Private-collection, previously with Moretti Gallery Fine Art Ltd., London.
[2] Pieter van Bloemen, A highly important album of 255 drawings on 124 sheets, predominantly views of Rome and it's surroundings. Sotheby's, London, 6 July 2005, lot #138.
[3] An Zwollo, Hollandse en Vlaamse veduteschilders te Rome 1675-1725.
Van Gorcum & Comp. B.V., Assen, 1973.
[4] G. J. Hoogewerff, De Bentvueghels.
Martinus Nijhoff, Den Haag, 1952.