---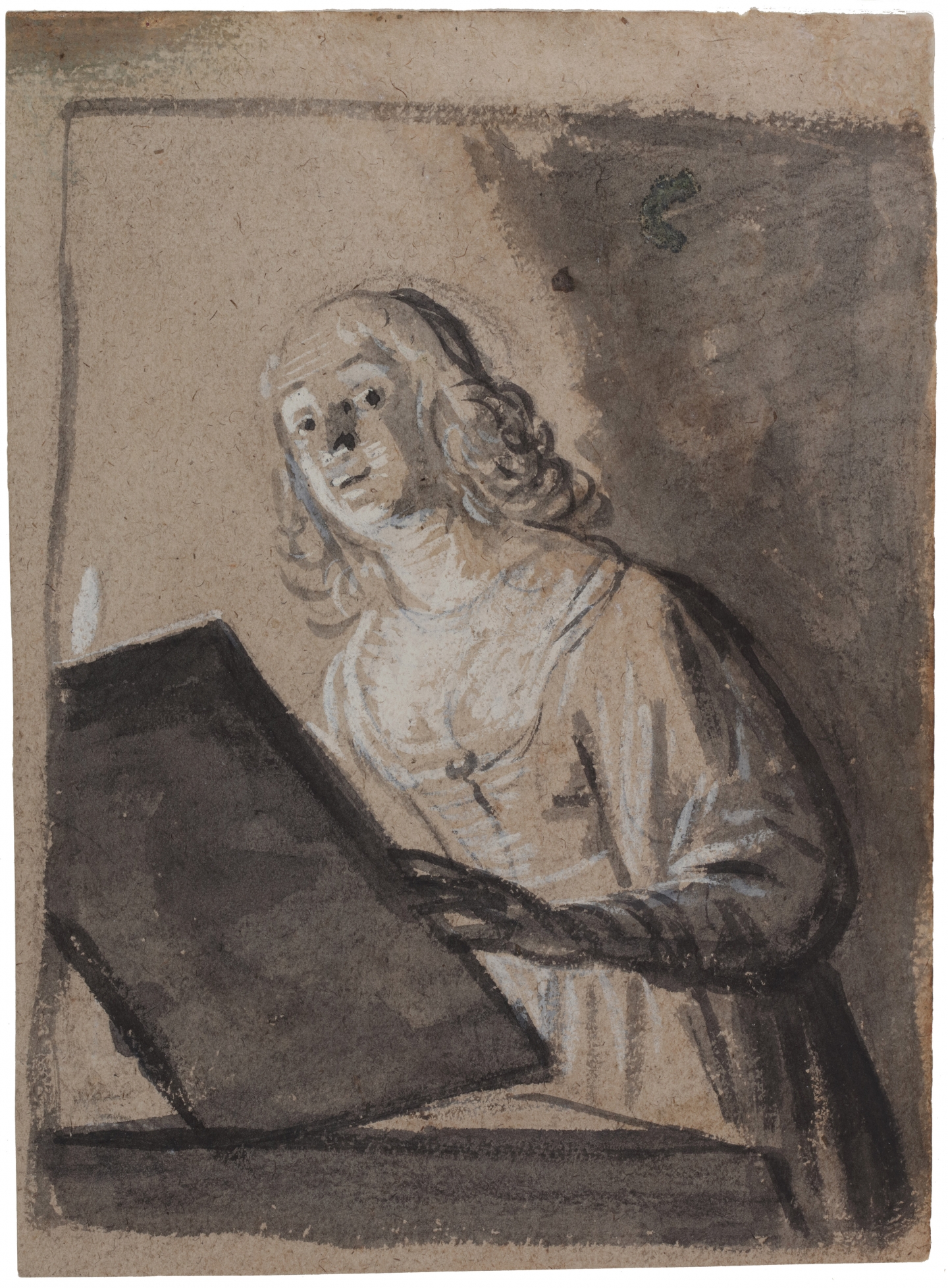 Click to enlarge
Born in the third generation of a family of painters, Gerard van Honthorst or Gherardo delle Notti, became one of the foremost Caravaggists from The Netherlands. Gerard started his apprenticeship to Abraham Bloemaert around 1606 and Abraham's interest in the use of dramatic chiaroscuro might have passed on to his pupil. Gerard's apprenticeship will have taken about six to seven years, after which the young artist reached the age of twenty-one and made his travels to Rome, in those days a common part of completing an artistic education. Specifically Honthorst travelled to Rome to see Caravaggio's interpretation on the fusion of realism and chiaroscuro.
Various sources dispute the year of his arriving in Rome (where he would live in the palace of his patrons, the Giustiniani's) which must have been between 1610 and 1616, the latter being the date of his earliest known and signed and dated drawing after the painting by Caravaggio in the Church of Santa Maria de Popo, Rome. In the palace of his patrons Gerard would meet works by the Bassani, Luca Cambiaso, Caravaggio, the Carracci and Annibale's most promising pupil Domenichino.[1][2]
Both our drawings originate from the same workshop estate as the group of twenty-seven drawings presented by Nicolas Schwed in 2014. The corpus was kept together until the early twentieth century in a Belgian private-collection and got dispersed afterwards at an unknown date. These sheets measured c. 388 x 255 mm, which indicates our drawings once were part of the upper section of one sheet with the same greenish oil paint found on the recto and verso of other sheets. The same counts for water damage to the upper left and right corners which was present in all drawings.[3]
These drawings once were part of the same sheet, indicated by the bue/greenish oil paint stroke which uninterruptedly connects both drawings at the upper left and right corners. Both drawings show very refined and detailed faces with much expression whereas the body figures and clothings show a fast and loose sketchy painterly nature. These detailed and sketchy contrasts within the same drawing give these sheets most vibrant characters. The adding of white chalk highlights emphasizes the painterly character of both drawings, which originates from Gerard's scholarship with Bloemaert.
Only in very few occasions Honthorst's drawings can be directly linked to paintings. For the present drawings we did not find matching paintings, though the drawings show abundant similarities to the maid in both versions of "The denial of St. Peter" (dated 1618 and ca. 1622-1624), "Musical group by candlelight" (1623) and "Cavalier and woman singing by candlelight" (1624) as well regarding the subject as for the composition.
Slightly later in his career, Honthorst would earn acclaim as a portraitist to the Court in The Hague and Royal Families of the House of Orange in The Netherlands, England and Denmark. He directed a highly productive extensive workshop which made him an affluent man. His commission in 1628 for the portrayal of King Charles I and his Wife Queen Henrietta Maria as Apollo and Diana started Gerard's career as a most successful portraitist. This resulted in commissions by Charles I's brother-in-law and sister "Winter King" Frederick V and his wife Elizabeth Stuart, queen of Bohemia followed by commissions by Stadholder Frederik Hendrik and his wife Amalia van Solms.
Especially the features of the drawing "Young woman with candle" show close comparisons with Elisabeth Stuart, Queen of Bohemia as well as her daughters Louise Hollandine van der Palts, Princess Palatine (who was a pupil of Gerard van Honthorst), and Henriette Marie van der Palts, Princess Palatine who both have been portrayed by Honthorst several times during the 1640's, which makes it extremely difficult to date both drawings.[4]
Although it is tempting to place both drawings in the early 1620's of Gerard's career, just after returning home from his Southern sojourn (Honthorst returned back to The Netherlands in May/June 1620, his fame being well established by then) and strong focus on Caravaggesque scenes with candlelight and chiaroscuro effects, it remains difficult to give an exact date of creation for both drawings within the corpus of Honthorst's oeuvre.[5][6]
The subject of the allegorical single-figured picture with candlelight is indebted to El Greco.
[1] Martyrdom of St. Peter, 1616. National Gallery, Oslo. Inv. NG.K&K.H. B.015597
[2] Gerrit van Honthorst (1592-1656). J. Richard Judson, Rudolf E.O. Ekkart.
Davaco Publishers, Doornspijk, 1999.
[3] Vingt-sept dessins de Gerrit van Honthorst (1592-1656).
Entry written by David Bronze. Nicolas Schwed et. al., Saint Honoré Art Consulting, Paris, 2014.
[4] Utrecht, Caravaggio en Europa. Bernd Ebert and Liesbeth M. Helmus. Centraal Museum Utrecht, 2019.
[5] "I disigni di Gerrit van Honthorst" in Gert Jan van der Sman et al., Caravaggio and the painters of the North. Madrid Museo Thyssen Bornemisza, 2016.
[6] Marten Jan Bok et al., Masters of Light. Dutch painters in Utrecht during the Golden Age. The Walters Art Gallery, Baltimore, 1997.