---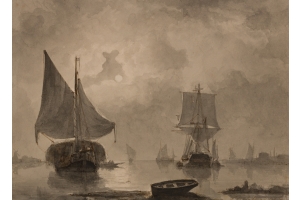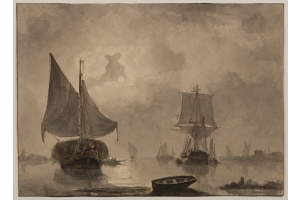 François Carlebur was born in Dordrecht in 1821 as the son of Dirk François Carlebur, a mirror producer, and Maria Johanna Arendita Ruts. In 1847 he married Maria Vliegenthart who gave birth to four children and dies in 1859 of cholera. He became a pupil of Johannes Christiaan Schotel (Dordrecht, 1787-1838) at the age of sixteen or seventeen. His early commissions were ship portraits, after which he went to Paris to learn photography from Louis Daguerre (Cormeilles, 1787-Bry-Sur-Marne, 1851).
Carlebur was active several years in Dordrecht as a photographer, but eventually returned to painting again, mainly for the English and Scottish market. He was a member of Pictura Dordrecht between 1840-1849 and returns as a member again in 1868, though he is still registered as a photographer. With his second wife Elisabeth Henrike Logger François also gets three children. He visits England and Scotland frequently for commissions and remains active as a painter until he dies in Dordrecht in 1893.
Most of Carlebur's drawings, watercolours and paintings depict ship portraits in profile. The present drawing is a most uncommon subject for Carlebur, as it shows moored ships at full moon.