---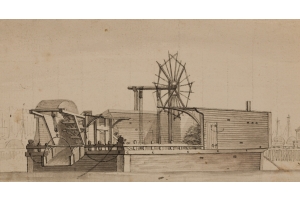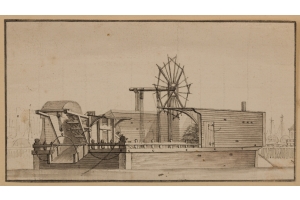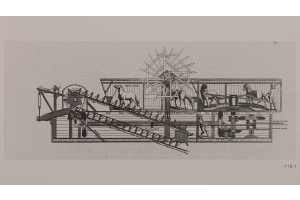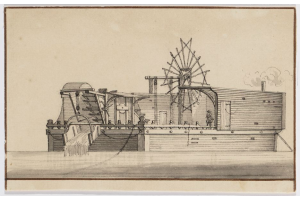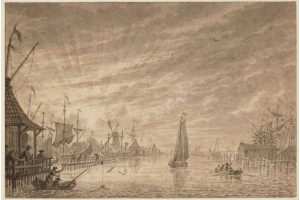 Amsterdam was still an active trade center in the 18th century; amongst others with the East Indies, France and England. Water from the Zuiderzee entering the slowly flowing river Ij caused lots of sedimentation, which gave the city of Amsterdam continuous trouble with silt as it could cause stranding ships. In the middle of the 18th century five mud mills were active on the river Ij; four large ones and one small one. These mud mills used horses to drive an assembly line which scooped large loads of silt rich water into a modderschouw or mud barge (= a small flat and wide boat which served as a mud container).[1] The engraving by Jan Punt (Amsterdam, 1711-1779) depicts the inside of a mud mill.[2](image 4)
The City Archives of Amsterdam (Stadsarchief Amsterdam) keeps a similar drawing by the same hand as our drawing. Here the drawing is attributed to Paulus van Liender (1731, Utrecht-1797).[3](image 5)
The attribution remains insecure nevertheless, as more draughtsmen were active in Amsterdam in this period, like Simon Fokke (Amsterdam, 1712-1784) who made several drawings depicting the river Ij seen from the yacht-basin looking towards the Blauwhoofd (dated 1762).[4][5](image 6)
Our drawing has been squared which indicates it has been used for a painting.
[1] B. Bakker, E. Fleurbaay, A.W. Gerlach; De Verzameling van Eeghen, Amsterdamse tekeningen 1600-1950. Waanders, Zwolle/Gemeentearchief Amsterdam, 1988. p. 159
[2] Jan Punt, Mud mill; detail from an engraving from "Groot volkomen Moolenboek" by Leendert van Natrus. Johannes Covens and Cornelis Mortier, Amsterdam, 1734. Vol I, plate XIV.
[3] Paulus van Liender (attr. to), Mud mill. Pen and grey ink, grey wash, brown framing lines. Inv. no. 10194.
[4] Simon Fokke, Het IJ gezien vanaf de jachthaven naar het Blauwhoofd, 1762. Pen and grey ink, grey wash, 250 x 373 mm. Coll. van Eeghen, Stadsarchief Amsterdam. Inv.nr. 10055/119
[5] Simon Fokke, Het IJ gezien vanaf de Jachthaven naar het Blauwhoofd, Getekent den 7 Augustus des avonds ten half acht. / te sien van de Oude jagthaven na het Blaauw Hooft / Simon Fokke; 1762. GAA inv.nr. Spl. 339-K