---
Hendrick Cornelisz. Vroom (Harlem, 1562-1640 Harlem) Beachscene with fishermen bringing in their catch (recto); A ship riding the waves in a stormy sea (verso)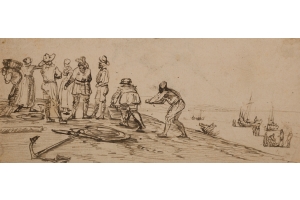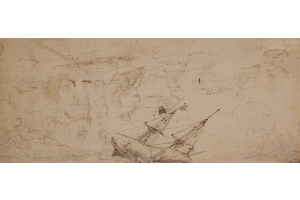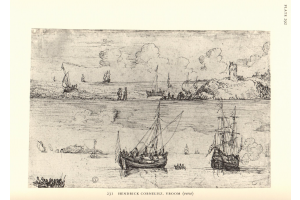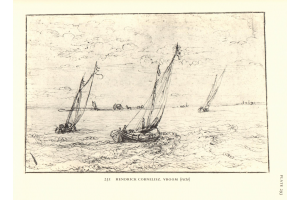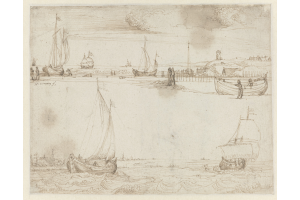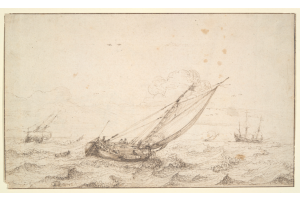 Born in Haarlem, Hendrick Cornelis Vroom was the son of the sculptor and ceramic-painter Cornelis Hendricksz. Vroom and developed into one of the very first and foremost marine painters of the Dutch Golden Age. He was active as a designer of tapestries, engraver, draughtsman and painter.
His first artistic activities were with faience painting, which he wanted to abort and after a quarrel with his father in law Hendrick embarked on a ship to Spain and further on to Rome, where he found his patron Ferdinando de' Medici (Florence, 1549-1609) and became an apprentice of Paul Bril (Antwerp, 1554-Rome, 1626). After extensive travelling through Venice, Milan, Genua, Turin, Lyon and Paris he returned to Haarlem again to get married in 1590. His second travel was less fortunate and he shipwrecked at Portugal where he made a living out of painting his shipwreck. His friend and biographer Karel van Mander (Meulebeke, 1548-Amsterdam, 1606) devoted four pages in his "Schilder-Boeck" on Hendrick Cornelis Vroom.
Vroom also made tapestries, several of which decorated the House of Lords, Westminster.
His large battle scenes with the Dutch and English fleet are a rich source of ship portraits.
Vroom gave lesson to Aert Anthonisz., Jan Porcellis and both his sons Cornelis Hendricksz. Vroom (Haarlem, 1590-1661) and Frederik Hendricksz. Vroom (c. 1600-1667).
The present composition with large figures is not yet described in the small collection of drawings by Vroom. The free handling of the figures in the background is however very similar and comparable with a drawing in the Frits Lugt collection.[1](images 3 and 4)
The use of a large, broad (reed) pen mentioned in the catalogue is also apparant in this drawing. Vroom is known for his drawings of ships and the verso drawing compares very well with these drawings, especially in the loose handling of the clouds and sky. Other similar drawings can be found in the Rijksmuseum.[2](image 5)
Another drawing in the collection of the Yale University Art Gallery at New Haven also shows similarities.[3](image 6)
The composition could very well have been used as a study for a painting. In several of Vroom's paintings depicting coastal scenes, groups of people were used in the foreground to balance the composition. Also the use of an anchor as an element is noticeable. Drawings by Vroom are rare and this drawing is in our opinion an interesting addition to his oeuvre.
[1] See "Eloge de la navigation hollandaise au XVIIe siecle", cat. nr. 83, illustration pl. 14
and K. G. Boon, "The Netherlandish Drawings of the fifteenth and sixteenth century of the Fits Lugt collection", cat. nr. 231, plate 293 and p. 398-401.
[2] Hendrick Cornelis Vroom, Oost-indiëvaarder en zeegezicht met rots. Pen and brown ink, 213 x 166 mm. Rijksmuseum Amsterdam, inv. nr. RP-T-1903-A-4766(R). See K. G. Boon, "Netherlandish Drawings of the fifteenth and sixteenth century", nr. 481, ill. P. 182
[3] Hendrick Cornelis Vroom, Sailing boats in a storm. Yale University Art Gallery, inv. no. 1959.38.37.
[4] George Keyes, Cornelis Vroom, Marine and landscape artist. Utrecht, 1975, 2 vols.