---
Esaias van de Velde (Amsterdam 1587-1630 The Hague) Scandinavian landscape with log cabins, rapids and travellers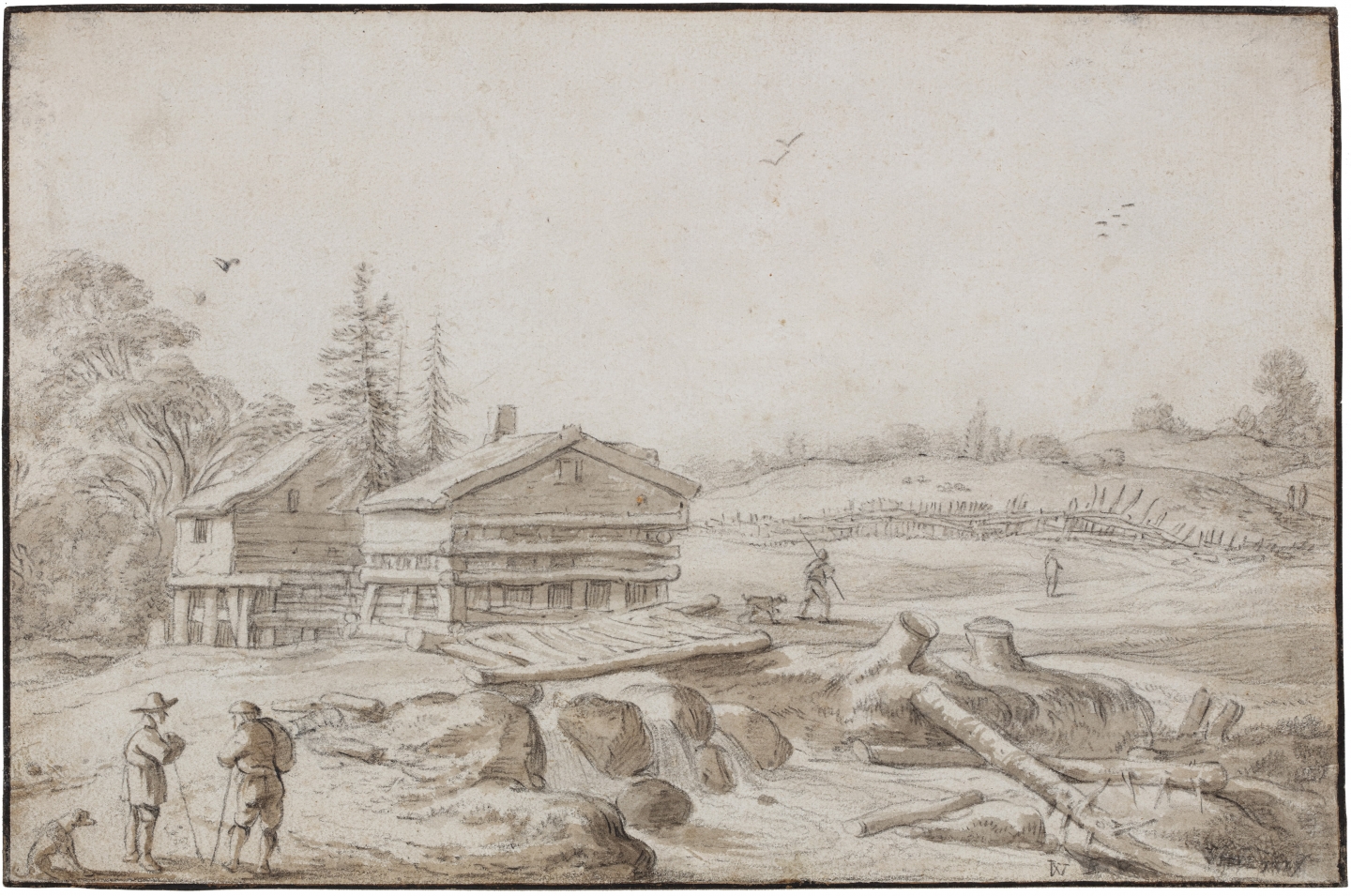 Click to enlarge
Esaias van de Velde pioneered the use of black chalk for landscape drawings, which makes this one of the earliest black chalk landscape drawings long before Allaert van Everdingen (1621-1675) and Jacob van Ruisdael (1628-1682).[1][2][3]
Just like the two closely related drawings Keyes mentions in his catalog raisonné on Esaias van de Velde, one of which is also dated 1627, this small group of drawings in black chalk is a significant premonition of the Scandinavian drawings of Allaert van Everdingen from the mid 1640's and later.[4][5]
Most assumptuous the motif of fallen dead spruce trees may derive from paintings and drawings by Roelandt Savery (1576-1639) and Gilles Claesz. d'Hondecoeter (1575-1638).
The paper of our drawing bears the identical watermark compared to the drawing dated 1627 in the collection Rijksmuseum.[6]
[1] George Keyes, Esaias van den Velde (1587-1630). Davaco, Doornspijk, 1984.
[2] G. Keyes, 'Esaias van de Velde and the chalk sketch', Nederlands Kunsthistorisch Jaarboek 38 (1987), p. 136-145
[3] W. Stechow, 'Esajas van de Velde and the beginnings of Dutch landscape painting', Nederlandsch kunsthistorisch jaarboek 1947, p. 83-94
[4] Log cabin by a stream. Cleveland Museum of Art, inv. no. 66.7.
[5] Cabin at the confluence of two streams. Graphische Sammlung Albertina, Vienna, inv. no. 8683.
[6] Landscape with travellers being ambushed. Rijksmuseum Amsterdam, inv. no. RP-T-1885-A-474.