---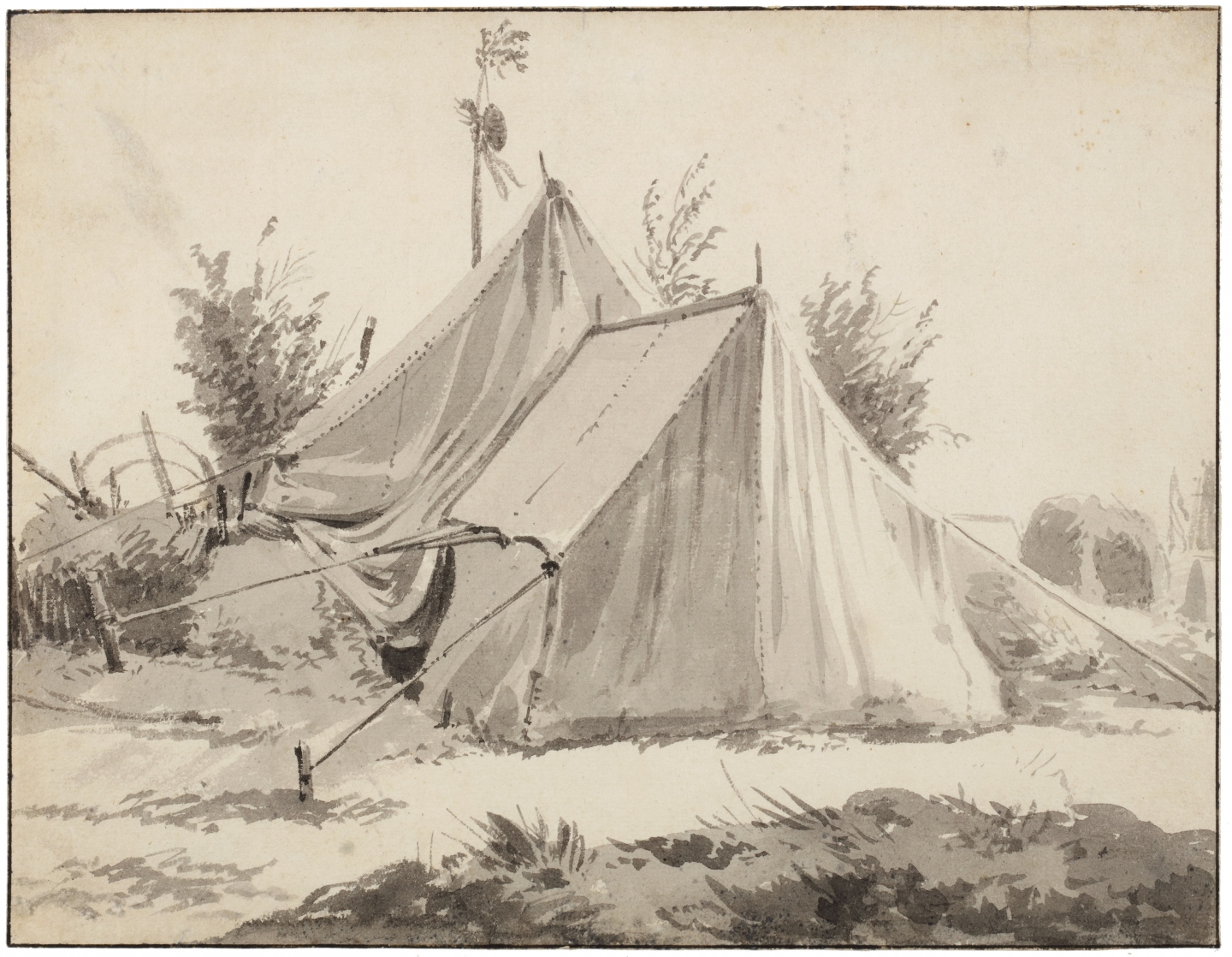 Click to enlarge
Pieter van Bloemen was apprenticed to the battle painter Simon Johannes van der Douw (1630-1677/97) in 1667 at the age of only ten years old. Shortly after being enrolled as a full master in the Guild of Saint Luke in Antwerp in 1674, Pieter was the first of three brothers to travel to Rome where he arrived in 1674, long before his two younger brothers Jan Frans called Orizzonte (1662-1749) who arrived in 1689 and Norbert called Cephalos (1670-1746), the latter who arrived in 1690 to join his two elder brothers and the confraternity of the Bentvueghels.[1][2][3]
Military encampments are a frequently recurring subject in Pieter van Bloemen's painted oeuvre which consists largely of horses, soldiers and cavalry scenes in Italian(ate) landscapes. This singular study of two solitary tents without horses, cavalrymen or any utensils is of a highly senere magnificence and the subject is unique within his corpus of drawings which merely consists of studies of horses, horsemen and Italian ruins. Pieter stayed in Rome from 1674 until 1694 which gave him the maximum of opportunities to study the so much appreaciated Italian light. These years have been utmost fruitful and the masterly skilled draughtsmanship by which the sunlight on the guy ropes has been caught is unsurpassed.
The pole with banner and canteen in the background of the encampment refers to his Bentvueghel nickname "Standaart" as Pieter van Bloemen was well known for frequently using standards with flags and banners in his paintings of soldiers and their encampments.
The present study of two military tents appears in at least two recorded closely related paintings by van Bloemen. The pleating of both tents could as well be regarded as a drapery study.[4][5]
A large album with 255 drawings on Rome and it's vicinity was auctioned in the rooms of Sotheby's, London.[6]
[1] Peter Schatborn, Tekenen van warmte, 17-de eeuwse Nederlandse tekenaars in Italië. Waanders/Rijksmuseum, Amsterdam, 2001. p. 22-32.
[2] G.J. Hoogewerff, De Bentvueghels.
Martinus Nijhoff, 1952.
[3] An Zwollo, Hollandse en Vlaamse veduteschilders te Rome 1675-1725.
Van Gorcum & Comp. B.V. Assen, 1973. p.27-33.
[4] Pieter van Bloemen, Campement de cavaliers.
Tajan, Paris, 18 December 2003, lot #103.
[5] Pieter van Bloemen, Hästarna rastas.
Stockholms Auktionswerk, Stockholm, 7 December 2011, lot #2138.
[6] Pieter van Bloemen, A highly important album of 255 drawings on 124 sheets, predominantly views of Rome and it's surroundings. Sotheby's, London, 6 July 2005, lot #138.