---
Jean Grandjean (Amsterdam, 1752-Rome, 1781) View on Frascati and villa d'Este, seen from villa Conti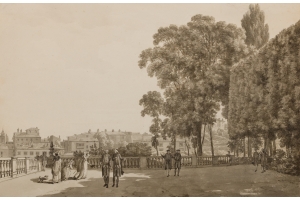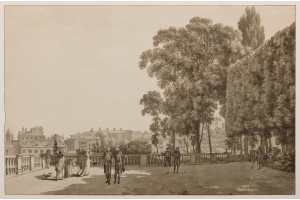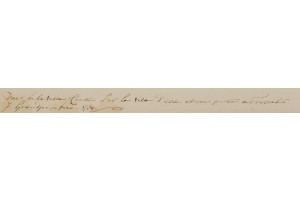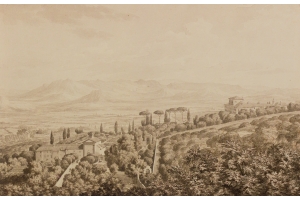 Born on February 5, 1752, Jean Grandjean was one the six children of Pierre Grandjean and his second wife Ida Hendriks. Pierre, who was a descendant of Huguenot refugees, was a glovemaker in Amsterdam. His father displayed Jean's first drawings in the window of his shop, which would attract interesting commissions from private-collectors in Amsterdam.[1]
Jean's first artistic training was an apprenticeship to the topographical draughtsman Jacobus Verstegen, though the pupil overgrew his master soon. After this Jean was active in the studio of the enamellist De Groot and grew dissatisfied due to the monotonous nature of the job. Finally in 1772 he arranged an apprenticeship to Jurriaan Andriessen (1742-1819) who ran a large studio for the manufacture of wallpapers and wall paintings. It is in this studio where many artists would have an apprenticeship. Amongst them were Jurriaan's brother Anthony (1746-1813), his son Christiaan (1775-1846), Hermanus Numan (1744-1820), Jacques Kuyper (1761-1808), Daniel Dupré (1751-1817) and Hendrik Voogd (1768-1839). Grandjean left Jurriaan's studio in 1775 as a versatile artist.[2]
Finally Jean longed to become a history and biblical painter and during his apprenticeship in Andriessen's studio he also took lessons at the Amsterdam City Drawing Academy. This academy was founded by amongst others the famous collector and artist Cornelis Ploos van Amstel in 1766 and it is here where Jurriaan Andriessen gave a course in draughtsmanship as well. Grandjean is mentioned in the academy registers for the first time in 1771 and would win several prizes of honour. Besides these lessons, Jean also took part in studying figure drawing in private artist societies, most probably to minimize costs. In 1777 Jean was one of the founding members of the artists' academy Felix Meritis.[3][4][5]
The figure studies were of great importance to Grandjean's historical paintings and a large group of them was discovered in the archives of the Rijksprentenkabinet by J.W. Niemeijer in 1974, shortly after the exhibition Ontmoetingen met Italië (confrontations with Italy) in Copenhagen and Amsterdam, 1970-1971.[2][3]
In 1779 Grandjean left for Italy to study Italian and classical art, financially supported by his two patrons Dirk Versteegh and Jan Tersteeg. He left Texel on June 2, 1779, arriving in Civitavecchia on July 6, 1779, where he had to wait in quarantaine for two weeks before being allowed to leave the ship. Finally he arrived in Rome on July 21, where he benefitted greatly from the protection of his mecenas Cardinal Alessandro Albani. He was the first in more than fifty years to do so, as the pope had forbidden the Bentvueghels to gather for their activities. Later on Dupré and Voogd would follow. Grandjean also became a member of the Trippelsche Akademie, led by Alexander Trippel (1744-1793), where one could draw after the nude model. Wilhelm Tischbein (1751-1829) was a fellow member. In this new artistical environment, Jean's style changed rapidly and he abandoned the characteristic eighteenth-century Dutch wallpainting style for an international classicism to become a highly original and talented draughtsman.
In this large, vibrant and sunlit bathing drawing, Jean shows well to do companies gathering at the garden balconies of villa Conti, overlooking Frascati with villa d'Este seen on the far right through the niche between flanking trees. Both villa's were famous for their splendid gardens with marble statues and waterfalls. Hubert Robert, Jean-Honoré Fragonard and Daniel Dupré drew their surroundings as well.
Our drawing is very closely related to the drawing sold in the rooms of Christie's, London, 2006, from the Paul Oppé Collection. This drawing shows Frascati seen from a higher point of view. Both drawings signed, dated 1780 and annotated on the verso.[6](image 4)
When Grandjean arrived in Rome, his first drawings still were arcadian drawings reminiscent of the influence by Jurriaan Andriessen, as shown by an example present in the collection Teylers Museum.[7][8]
Influences by Gerard de lairesse (1641-1711) and Isaac de Mouchereon (1667-1744) are evident in his early drawings as well. Gradually Jean's style transformed into Neo-classicism, influenced by Winckelmann. In Rome he would devellop a more international and (Neo-)classicist style as is the case in our drawing of Frascati.
Unfortunately Grandjean died at young age on 12 November 1781 in Rome due to influenza. This sudden death robbed The Netherlands of a most promising and perhaps the most successful Neo-Classisist artist of the eighteenth century. Some of Grandjean's sketches and unfinished drawings were finished by Daniel Dupré who also took care of sending the drawings back to The Netherlands and facilitating its sale by Versteegh and Tersteeg.
[1] Van der Eijnden and van der Willigen, Geschiedenis der Vaderlandsche Schilderkunst. Haarlem, 1816-1840. Vol. II, p. 376-388.
[2] J.W. Niemeijer, 'Academies and other Figure Studies from Jean Grandjean's Roman Period', Master Drawings 12 (1974), p. 351-358
[3] K.G. Boon, Keith Andrews, J.W. Niemeijer, Ontmoetingen met Italië, Tekenaars uit Scandinavië/Duitsland/Nederland in Italië, 1770-1840. Rijksprentenkabinet Rijksmuseum, Amsterdam, 1971.
[4] J. Offerhaus, 'Van Isaac en Apollo. De prijswinnende tekeningen van de Amsterdamse stadstekenacademie', Nederlands Kunsthistorisch Jaarboek 30 (1979), p. 43-78
[5] P. Knolle, 'Het Departement der tekenkunde van Felix Meritis, 1777-1795', Documentatieblad Werkgroep Achttiende Eeuw 15 (1983), p. 141-196
[6] Jean Grandjean, View of Frascati, 1780. Black chalk, pen and grey ink, grey wash, pen and brown ink framing lines, 267 x 408 mm. Sotheby's, London, 5 December 2006, lot 79.
[7] Frans Grijzenhout, Carel van Tuyl van Serooskerken, Edele eenvoud, Neo-classicisme in Nederland, 1765-1800. Waanders, Zwolle, 1989.
[8] Leslie A. Schwartz, The Dutch drawings in Teylers Museum; Artists born between 1740 and 1800. Haarlem / Ghent / Doornspijk, 2004. p. 126-127.