---
Christophe Carel Henri de Nerée tot Babberich (Zevenaar 1880-1909 Todtmoos) Hermaphrodite (recto) Fantastic landscape (verso)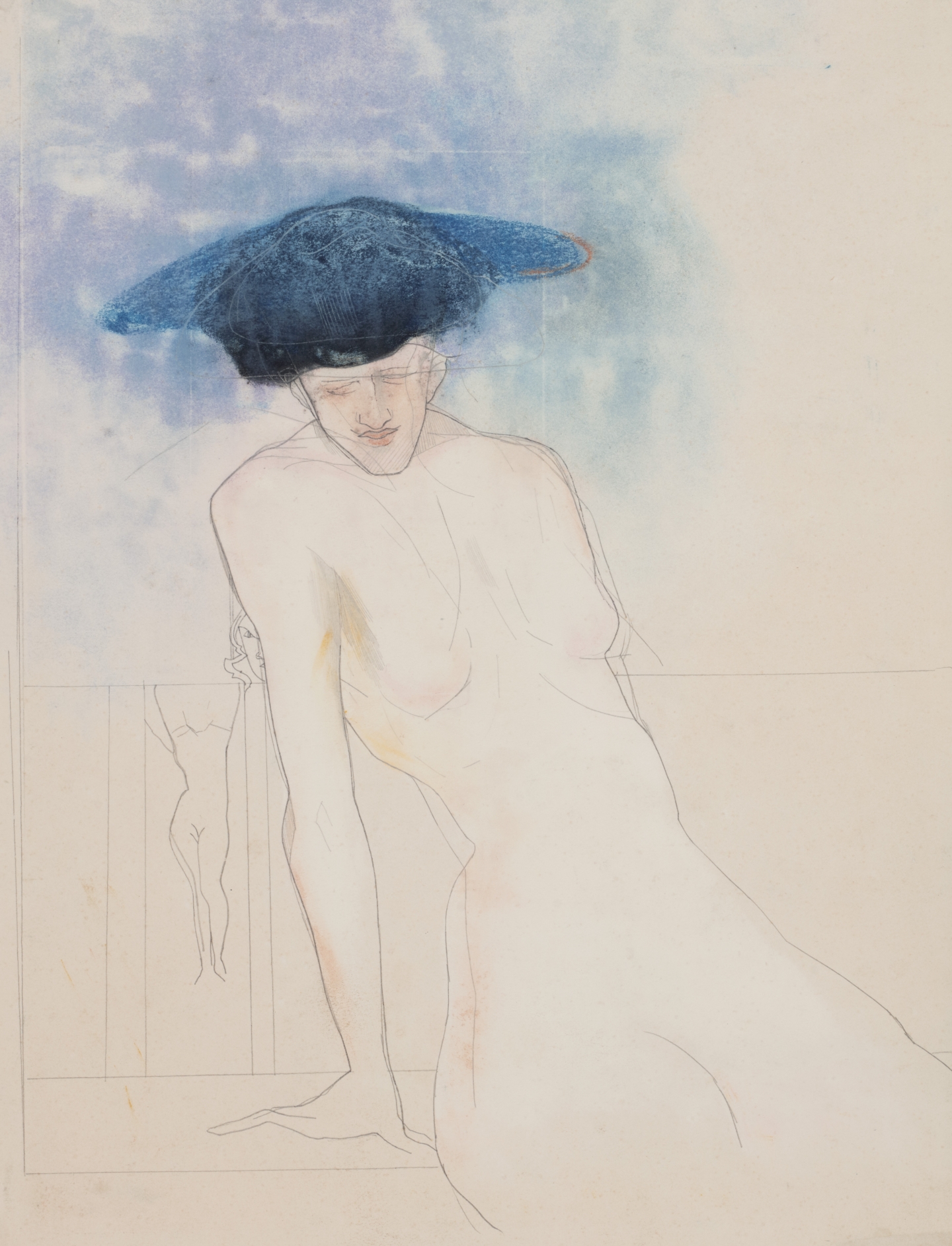 Click to enlarge
Carel de Nerée tot Babberich ( 1880-1909) is mainly known for his Jan Toorop and Aubrey Beardsley inspired works from 1899-1901. But there exists a little known 'modernist shadow oeuvre' he created from about 1904, 1905, onwards. This hitherto unknown Hatted Nude is a fine and interesting example. It has a raw sexuality, somewhat akin to his near-contemporary Egon Schiele.
With its 49,8 x 34,3 centimeter it is quite large, as De Nerée usually made smaller works. It is drawn with pencil and watercolor and heightened with white chalk. In addition to the main figure, there is a sketch of a female body and a small head. The composition is comparable to De Nerée's erotically tinted Elegant lady with a blue-green Robe and an Idealized Portrait (private collections) from 1904 where the artist combines ink with a similarly colored watercolor.
On the back of the sheet he painted an abstract landscape with different shades of watercolor. Landscapes are quite rare in De Nerée's oeuvre and only appear regularly in his last works from 1906-'07. An example is the ink drawing Fantastic Landscape from 1907 in the collection of the Rijksmuseum. These later works are strongly influenced by Fernand Hodler and most of them are made in sanatoria in Swiss, where De Nerée stayed because of his tbc. Based on this the Hatted Nude could be dated 1905-'07.
It is of course striking that the naked figure only wears a hat, but consciously or unconsciously, De Nerée uses a very modernist theme here. In the same period 'hatted nudes' were painted by some of the most eminent modern artists, like Kees van Dongen (Nude with a black Hat 1906), Amedeo Modigliani (Nude with Hat 1907) or Egon Schiele (Hatted nude (aka Die Hämische) 1910). The combination of nude with the hat fetish makes it a provocative modern theme.
But De Nerée, being somewhat of a rebel, gave a subversive twist to it by putting a man's head on a female body, making it an androgynous figure. This could hypothetically reflect the artists' personal struggles with sexuality, as it rumored that De Nerée was gay (or bi) but had of course no way of coming out of the closet. At the same time he had many affaires with women during all his life. These two sides are depicted in two novels, the main characters of which are based on De Nerée. In Hans Steengrachts Het Eerste Principe (The First Principle 1903) De Nerée's literary alter ego is a very heterosexual Don Juan. But in Pathologieën (Pathologies, 1908) the artist 'René Richell' is a, very sadistic, gay man.
But regardless of biographical speculation, the fact is that in Symbolism, where De Nerée's roots lay, the androgynous was a well-known theme. It was seen as the embodiment of The Idea, the ultimate transgression of human boundaries. De Nerée might also be influenced by the many androgynous figures his friend, the Dutch-French artist Léonard Sarluis painted.
At any rate, De Nerée's Hatted Nude is a very special work by this very special artist.

Sander Bink