---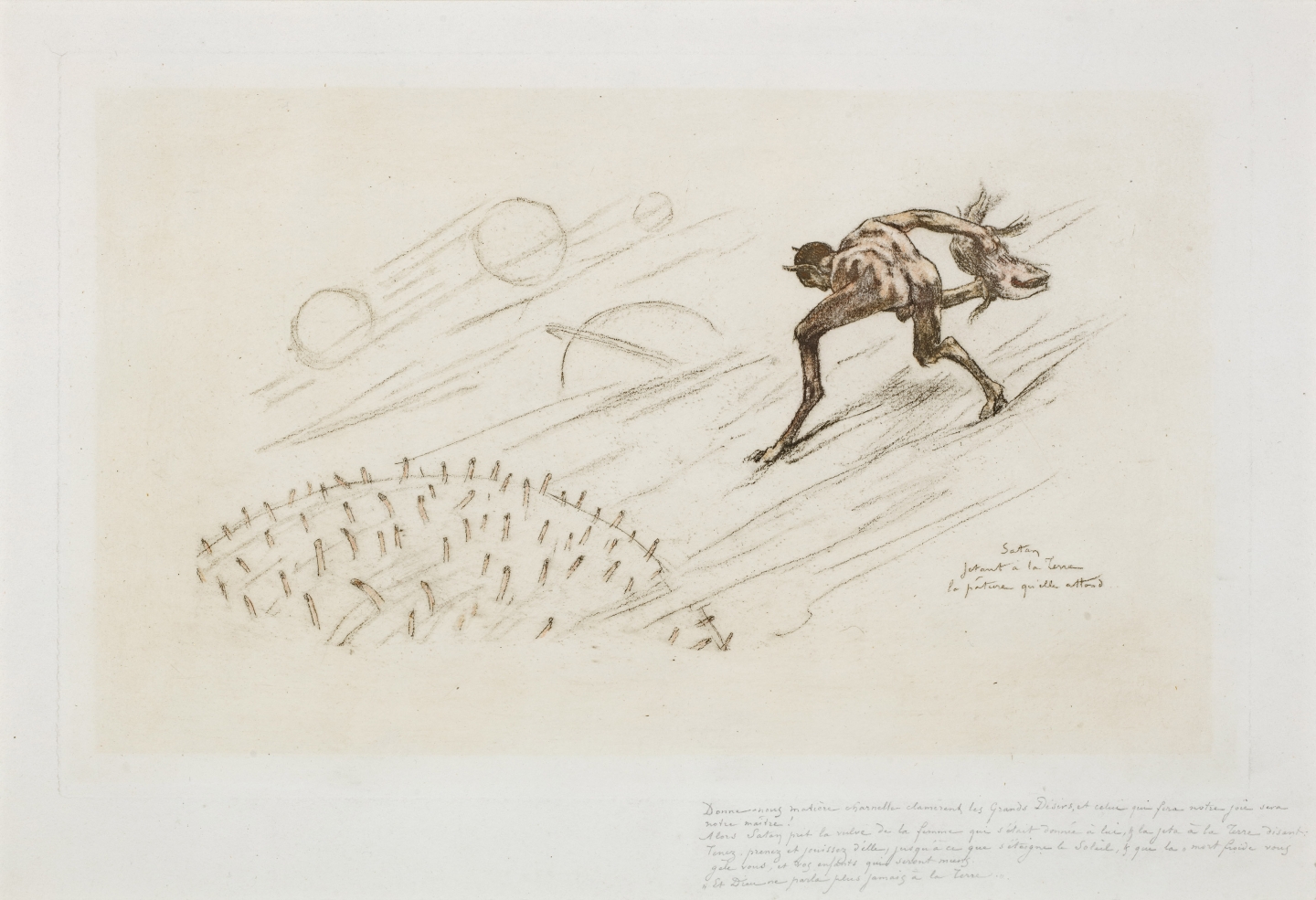 Click to enlarge
Definitely one of the rarest and most explicit prints by Félicien Rops, this unique copy hand-coloured with elaborate annotations in pencil by the artist on the margins below the lower right of the platemark.

With a powerful gesture, Satan is about to throw a giant hairy vulva down the distant earth, which has transformed into a swarming mass of craving erect penisses. The subject shows Rops at the peak of his explicacy and is a purest visualisation of misogynism, the theory he frankly adopted from Charles Baudelaire. Also, the work embroiders on the theme of "the Sower" as initiated by Jean François Millet, who influenced a great number of artist amongst who are Vincent van Gogh, Matthijs Maris and Albin Egger-Lienz.
 

The extensive manuscript writing in pencil reads as follows: Donne-nous matière charnelle clamerent les Grands Desirs, et celui qui fera notre joie sera notre maître !
 Alors Satan prit la vulve de la femme qui s'etait donnée à lui, & la jeta à la terre disant : tenez, prenez et jouissez d'elle, jusqu'á ce que s'éteigne le soleil, & que la « mort froide vous géle vous, et vos enfants qui seront miens »
Et Dieu ne parla plus jamais á la terre.
 (Give us carnal matter, screamed the Great Desires, and he who brings our joy will be our master !
Then Satan took the vulva of the woman who had given herself to him, and threw it down the distant earth saying : Here, take and enjoy her until the sun goes down, and that the "cold death commits to you, you and your children will be mine"
And God spoke to the earth never again).
The original copper plate was with Miss. Claire Demolder-Rops. Two versions of the original drawing are known:
 One in the collection of the Musée provincial Félicien-Rops, Namur, as a remarque drawing on the helioengraving "Madeleine".
 The second version as a drawing in the lower margin on "l'organiste du diable. Sainte Cécile"
.[1][2]
Charles Mendiot's collection was famous for comprising a very high standing selection of Rops' finest prints.



[1] "Félicien Rops – le cabinet de curiosités, caprice et fantaisie en marge d'estampes".
Musée provincial Félicien-Rops, Namur, 2003. p.86-87
[2] Op. Cit. p.134-138