---
Antonina Houbraken (Dordrecht 1686-1736 Amsterdam) Trompe l'oeil with silver medal celebrating the fourth term as mayor of Amsterdam for Dr. Nicolaes Tulp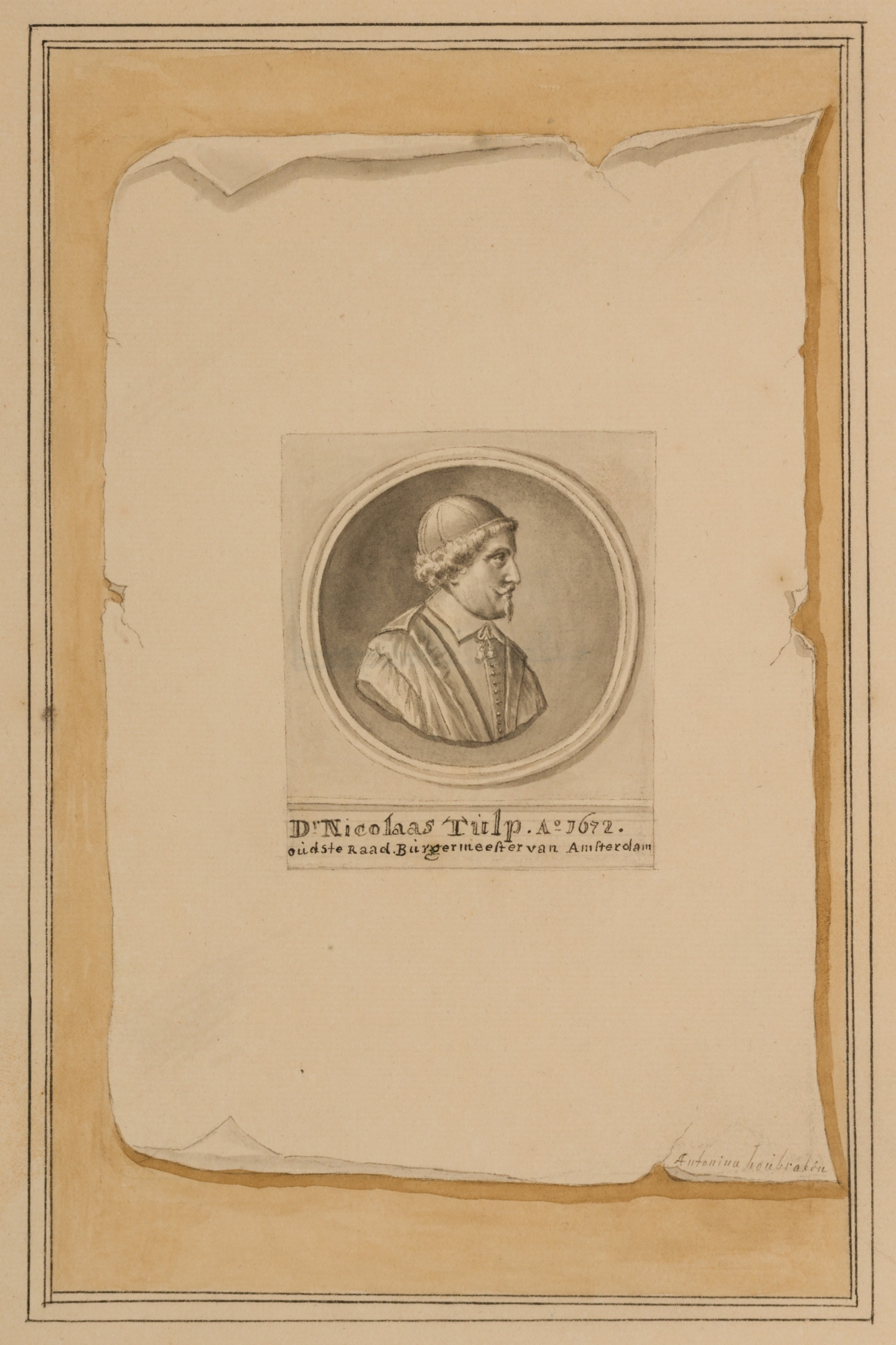 Click to enlarge
Antonina Houbraken was the daughter to the famous painter, engraver and writer Arnold Houbraken (1660-1719) and second wife of Jacob Stellingwerff (1667-1727). Jacob, who was a goldsmith by profession, became an amateur draughtsman or copyist after his marriage with Antonina in 1723. His two main clients were Matheus Brouërius van Nidek and Andries Schoemaker.
After the death of her husband, Antonina continued drawing for Andries Schoemaker and signed most drawings with Stellingwerff's monogram, only sevreal times signing with her own name. By far the largest part of her small oeuvre is in the Schoemaker manuscripts. Several drawings are known in which Antonina worked together with Jacob. She appears a more talented artist than her husband as well as her father. In fact, it was Antonina who taught Stellingwerff the art of drawing.[1][2]
In this trompe l'oeil drawing, the silver medal for Dr. Nicolaes Tulp (Amsterdam, 1593-1674) is depicted, celebrating his fourth term as mayor of Amsterdam. A fine example preserved in the coll. Rijksmuseum, Amsterdam. Tulp is also the central figure in Rembrandt's famous "De anatomische les van Dr. Nicolaes Tulp" (The anatomical lesson of Dr. Nicolaes Tulp).[3][4]
A closely related trompe l'oeil drawing by Antonina Houbraken present in the coll. City Archives Amsterdam.[5]
[1] Charles Dumas and Willem Beelaerts van Blokland, De kasteeltekeningen van Abraham Rademaker. Waanders Uitgevers, Zwolle, 2006. P. 57.
[2] J. Otten, 'Opdrachtgevers: Andries en Gerrit Schoemaker', in: A.W. Gerlach e.a., cat. tent. Pronk met pen en penseel: Cornelis Pronk (1691-1759) tekent Noord-Holland, Haarlem (Vleeshal) 1997, p. 109-126
[3] Nicolaas Tulp, vier maal burgemeester en vijftig jaar raad van Amsterdam. inv. no. NG-VG-1-1118
[4] Rembrandt Harmensz. van Rijn, De Anatomische les van Dr. Nicolaes Tulp. Mauritshuis, Den Haag, inv. no. 146.
[5] Antonina Houbraken, Portrait of mr. Joan Corver (1628-1716), Councillor and mayor of Amsterdam. City Archives of Amsterdam, inv. no. 010097007732.