---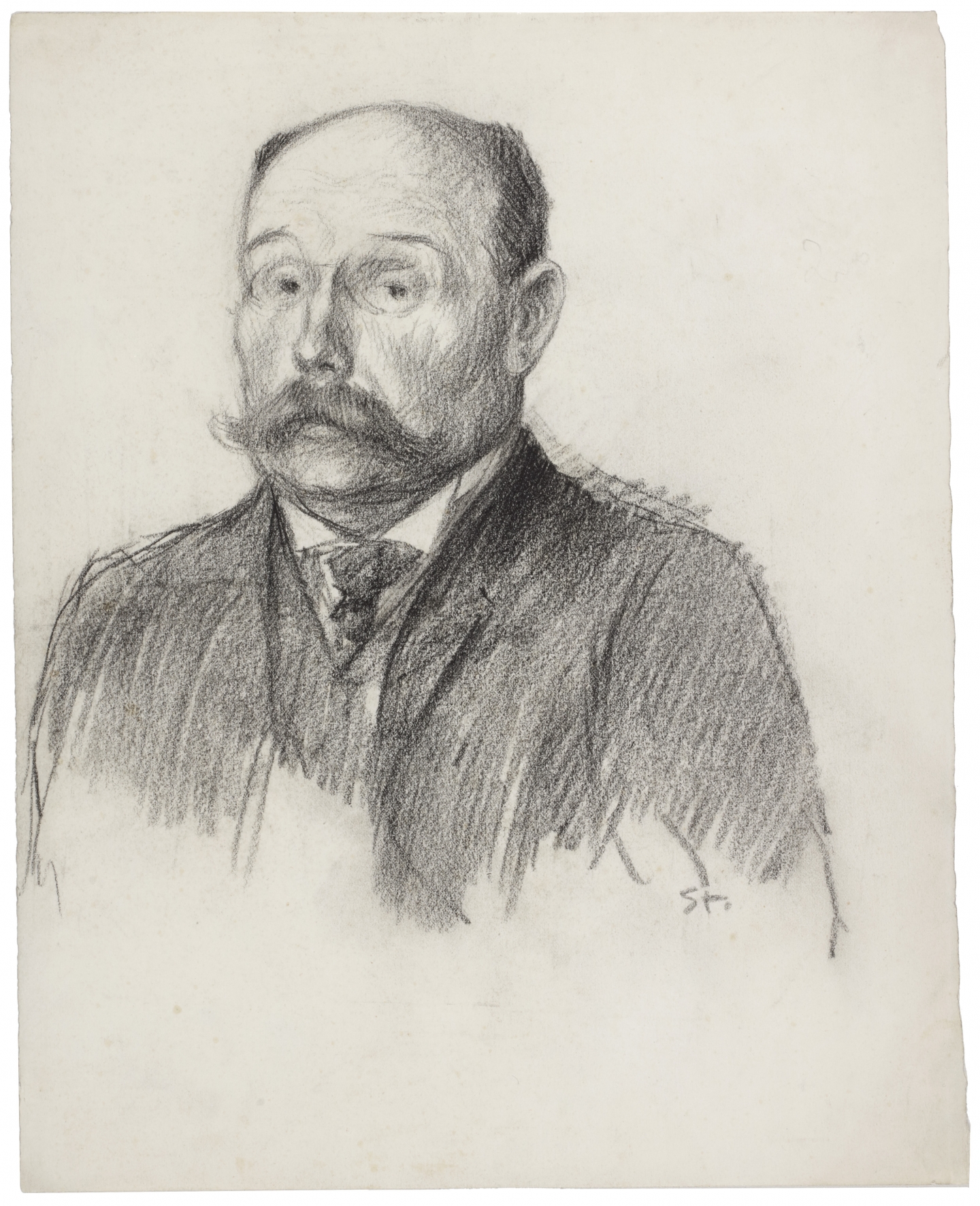 Click to enlarge
Who mentions Montmartre, mutually names Steinlen, as the artist and neighbourhood are strongly intertwined with each other.
The Swiss born Théophile-Alexandre was raised in an artistic family. He left his studies Theology early and acquiried some artistic skills at the Mulhouse textile factory. Inspired by Emile Zola's L'Assommoir the young artist and his wife Emilie leave for Paris where the couple arrives in October 1881, just one month before Rodolphe Salis' cabaret Chat Noir opens it's doors of future fame initiating the birth of the French Chanson, Galanty Shows and Ballroom dancings. Adolphe Willette introduces Théophile-Alexandre to Rodolphe Salis and Steinlen settles in the rural and artistic Montmartre in an environment of boundless freedom of expression.
Steinlen reports the local Parisian daily life with a humanistic and socialistic vision. He shows the harsh, selvidge and disenchanting faces of society. His illustrations and the red-hot introduced freedom of the press make Le Chat Noir a huge success and establish both Steinlen's and Le Chat Noir's fame. The Butte Montmartre would become the ultimate counterpoise for the bourgeois and it's ideals.
From October 1885 he illustrated (just like Henri de Toulouse-Lautrec) for Aristide Bruant's cabaret and magazine Le Mirliton and from 1891 for Gil Blas.
After his exposition at Salon des Indépendents in 1893 Steinlen has his first great and very successful retrospective exhibition Exposition de L'Oeuvre Dessiné et Peint de T. A. Steinlen at La Bodiniére from 10 April until 15 May 1894 for which he designed the poster as well.
Steinlen's by far most famous commission was his affiche for La Tournée du Chat Noir in 1895. This affiche icon not only promotes the eponymous cabaret but also his intense love for cats.
Léon Frapié (Paris 1863-1949 Paris) is best known as the author of the novel La Maternelle published in 1904 for which he was awarded the Prix Goncourt in the same year.[1]
The novel tells the memories of his wife Leonie Mouillefert about Rose, an academically educated girl from a well-to-do family who is about to get married and encounters several unfortunate events which leaves her homeless and destitute. To prevent herself from starvation she pretents to be of lower educated level and starts to work as femme de service in the maternelle of the working-class quarter of Menilmontant. She keeps a diary which witnesses her to be an extremely kind-hearted woman to whom the children go to find a safe and warm shelter when needed. Frapié wrote the novel one year after Émile Zola passed away, the latter who was a great source of inspiration for Steinlen.
La Maternelle was successfully adapted to film in 1933 and was ranked among the best foreign language films by the National Board of Review of Motion Pictures.
A big and warm thank you to Elisabeth Maréchaux Laurentin who has kindly identified the sitter as the author Léon Frapié (Paris 1863-1949 Paris).[2]
[1] Léon Eugène Frapié, La Maternelle.
Librairie Universelle, Paris, 1904.
[2] Correspondence by e-mail, 1 July 2022.